Frequently Asked Questions
Yes! You may order 6 and 4 packs of local craft beer to go.

Do you have a corkage fee?

Yes, $12 for a 750mL bottle of wine, max two bottles.

Does Pizza N' Such deliver orders?

We personally do not deliver, however, we started using GrubHub for delivery service.

Is our dough made fresh daily?

Yes, we make our dough every morning.

Does Pizza N' Such have Vegan Food?

Yes! We are totally vegan-friendly. Any pizza can be customized to be vegan on request. Our substitutes include vegan pizza sauce, daiya mozzarella cheese, and beyond meat sausage. We also have Gorgonzola and Greek salads made vegan on request!

Can I split a pizza into halves?

Depends. Specialty pizzas and One Size Only pizzas are only made whole; however you can split a create your own pizza in half. Halves are the only splitting we will do, thirds and quarters are too complicated for us! Sorry!

Are there any other locations?

No, and no future plans to have any other. One is enough for our family!

Didn't you use to be that little pizza shop?

Yes! We use to be a small eight table restaurant occupying a small section of the east side of the building. In 2002 we expanded into the entire down stairs of the building. It's still the same owners and same delicious food plus more menu items and more beers on tap!

We do send out emails twice a month offering discounts and coupons. Join our email list to receive these coupons and specials. We have a daily beer special. Like us on Facebook or follow us on Instagram to know about specials we offer on a weekly basis. @pizzansuch

Yes, it's a plaster molding from 1912 that we restored in 2002. When we expanded the restaurant and removed the lowered faux ceilings, we found it underneath! It's crazy that the previous tenants would cover up such amazing architecture.

Does Pizza N' Such take reservations?

We do not accept reservations. However, if you have a party of 6 or more, please call 30 minutes ahead of arrival and we will prepare a table for you. The entire party must be present to be seated with a 15-minute grace period.

Can we bring in a cake for a birthday?

We ask you to try our desserts first! Susan makes an awesome New York style cheesecake and we serve only Dr. Bob's Handcrafted ice cream! The brownie sundae is too good to pass up. However, if you want to bring in a special dessert for your party we do have a "cakeage" fee for $1.50 per person. If you bring in your own plates, forks, candles and napkins we gladly waive the fee.

Can I buy a Pizza N' Such shirt?

Yes, we do sell them to customers!

Where did the pizza man logo come from?

He came around about 1982. Local Claremont design artist found him for us. And no, he isn't supposed to be Mike. In 2015, artist Bob Motown designed our Happy Cat pizza t-shirt.

Does Pizza N' Such have outdoor seating?

Yes, we do! We have a partially shaded patio! Dogs are allowed on the patio.
Join Us
Get Menu Updates
Stay in the know of our daily & seasonal menu changes. We'll also email you exclusive coupon discounts for subscribing online!
There's always something new happening at Pizza N' Such!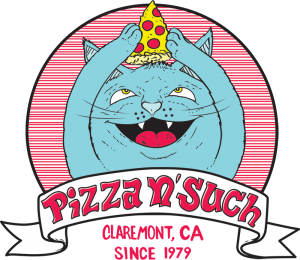 We Can't Wait to See You!
Visit Us
202 Yale Ave Claremont, CA 91711
Email Us
info@pizzansuchclaremont.com
BUSINESS HOURS
| | |
| --- | --- |
| Sunday - Monday | 11:30am - 8:00pm |
| Tuesday | Closed |
| Wednesday - Saturday | 11:30am - 9:00pm |